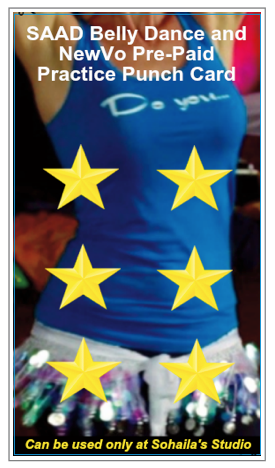 CLASS OPTIONS
Each class is a suggested donation of $25 (plus paypal fees) when purchased individually. You can save $$ by purchasing a SAAD (Sohaila's Academy of Artistic Dance) Exclusive Punch Card in advance or in studio. When you purchase the punch card, class price is $20. Several options to invest in classes:
     ☛ On line using credit card
     ☛ Pay by Zelle or Venmo
     ☛ Pay in class: Please come to class 10 minutes early to allow time to make your payment so I can make sure to start class on time. You can pay by Cash, Check or Venmo at this time. Email Sohaila at Sohaila01@gmail.com for Venmo or Zelle information.
Please note: if you cannot pay the suggested donation price, please call Sohaila.
Click below and get started!
CLASS POLICY – PLEASE READ
•Classes must be paid in full; partial payments cannot be accepted. Classes must be paid in full every month in advance to get discounted class prices. NO exceptions. For your convenience Sohaila's Pre-Paid Practice Punch Cards are available.
•Punch cards are non-transferable and non refundable. You have a full year to use your punch cards from the date of purchase. Practice class Pre-paid punch cards can be invested by way of Cash, Venmo, Check, or Zelle or online with Pay Pal.
•Checks that have insufficient funds will be charged a $35 dollar fee and check writing privileges will be suspended indefinitely. Cash will be the only method of payment.
•Please be on time to class. Make an effort to come to every class. Always bring your class workbooks and props to every class. 
•Workbook is a mandatory purchase and used as an ongoing learning tool in all classes/choreography dances. Books can be purchased through Sohaila in-person or via the website.
•You may enter studio no earlier than 5 minutes before your class starts. This ensures students in class already in progress has complete concentration with no disruptions.
•If you wish to participate in Sohaila's Shining Stars performance gigs, you need to attend Wed 8;00pm on going class EVERY week. Otherwise you will not be eligible to perform with the troupe at outside events.
•I urge you to take notes in class. It is up to you to remember new moves, combinations, choreography's, etc.
•Private Classes: Once you have made an appointment with Sohaila for a private class, it is on the calendar, to cancel or reschedule your private you MUST call, or e-mail Sohaila at least 24 hours in advance. If you do not call or e mail to reschedule you will need to pay for that private. NO exceptions. All rights to choreographies made for you in a private class belong to Sohaila. You have the right to use the choreography only with Sohaila's permission.
•Online Classes in Membership hub: Most classes are video taped and added in an exclusive memberhub for online members only. All classes and choreographies are the property of Sohaila. By investing in my classes via in studio or online classes, you are agreeing to be videotaped and added in Sohaila's exclusive membership hub. 
•Refund Policy: If for any reason your schedule changes after you've pre-paid for classes, I'll be glad to provide a refund, however there is a $25 cancellation fee. No refunds will be granted after attending the first class. No exceptions.
•Exclusive teacher policy: two training options exist.
            Option 1…In the studio with a signed contract of sole instruction/choreography training statement. The reason, students who train in person with one teacher develop into dance troupe members. Our dance troupe is exclusive, so from the onset, we train with focus and commitment to each other and for the success of the dance troupe.
            Option 2… Online classes for the student who participates in various dance styles, with various dance instructors, who desire exposure and exercise.
•Make-Up Policy: If you have received credit for a missed class, you can make up a class within one month; if you do not make up this class before one month you forfeit that class unless time is extended by special permission. Also, no refund will be given.
•I highly encourage you to stick with one teacher. Each teachers style is different and this will hinder your teaching abilities in your in-studio class. I do have on-line classes available that you can take at your convenience anytime if you wish to go to other teachers as well.
Shining Stars Dance Troupe: If you want to train, perform, and experience dance troupe life; it requires a contract of commitment. You will sign a contract stating you will perform exclusively with Sohaila's Shining Stars.
•Different Levels: Beginning level class and Int/Adv. ongoing class is available. If you wish to further train with Sohaila you may want to opt in for private lessons.
•No Soliciting: Soliciting, selling, or distributing flyers during class for other products/services is prohibited.
•Performing at outside events or private parties as a Sohaila Shining Star without prior permission is prohibited. All choreographies are the sole property of Sohaila. If you would like to dance any of her choreographies, you must have permission.
•Attire Policy: No loose fitting wear or jeans. Appropriate dance pants, T-shirts, camisoles and hip scarves should be worn and may be purchased from the SohailaWear Line. Either jazz, ballet, socks (although they can be a bit slippery) or bare feet is suggested.
•Shoe Policy: Street shoes are not permitted inside the dance area of the studio – help us keep the studio floor clean by kindly removing your shoes when you enter the studio and putting on your practice shoes when you enter the studio. Put your items in the cubby holes provided.
•Shoes: When shopping around for your dance shoes (look below for appropriate shoes) you can order thru Discount Dance Supply, I have found them to be the best value. When ordering your shoes either at the store, on the phone or on line, Please give them the name of the Studio: Sohaila's Academy of Artistic Dance, (formerly Zyba Academy of Artistic Dance) or teacher/studio ID number to give to them:TP28456      www.discountdance.com  
•When visiting Discount Dance Supply in La Mesa let the cashier know you are with our studio so that we may receive credit points for your purchases. Remember to give them the number TP28456.  Students receive 10% off their first online purchase from DDS using this teacher number. Students receive 5% off all other online purchases from DDS unsung the teacher number.
•Studio Rental: Studio time can be rented out for practice or for your special event. As a Shining Star member you receive a discounted price of $50.00 an hour. Please book times with Sohaila.
•Place your personal items in the cubby holes. Do not bring valuable items to the studio. The studio, its management or instructors are not responsible for lost or damaged personal property. No food or drinks allowed on dance floor. You can eat and drink in the foyer/bar area. Water, as long as it is in a non-breakable, non-spillable container, is allowed on the dance floor.
•Courtesy and Etiquette Policy in Class– My studio is my haven and when students are in my space I want them to feel welcomed and comfortable. Be on time to your scheduled class(es). Some of my classes are in the 'all level class' which means that there is a tendency for seasoned dancers to bring their input at times. While they may give their opinion, suggestions or some help in class, ultimately the final decisions rest with me. Some people only want to be instructed by the teacher; some people don't mind hearing suggestions from other dancers. Wanting to be helpful isn't always perceived that way, and depending on a person's manner, may not always come across as you intend.  I will not tolerate being disrespected in my own place.  Complaining and bad mouthing others in class is not acceptable. Complaining about each other only adds to stress, tension, and friction where students of all levels should feel free to learn at their pace. If you have a serious complaint, bring it to my attention privately. I want all dancers to have a safe space and feel happy when they are here.
•No gum-chewing, eating or drinking (except water) on the studio floor, except in foyer/bar area. Please turn off your cell phone. If you arrive late, please enter quietly and take your place at the back of the room so as not to disturb the class in progress.
•Policies are in force at the time of this revision. I appreciate everyone's cooperation in following these policies
PERFORMANCE POLICIES
I highly recommend investing in Sohaila's New Guide Book "The Belly Dancer's Pocket Guide, How to Stay Sane and Thrive in Dance World." This can be purchased on SohailaInternational.com
Expectations of You as a Dancer in any performances as one of Sohaila's Shining Stars:
•Investment of Time– All dancers are encouraged to learn all choreography's for future dance events.  Rehearsals outside of class are a must and are mandatory as part of your commitment to perform. I will provide rehearsal dates in advance so you have time to arrange your schedule, but in case of an unavoidable conflict I can make allowances with advance notice as long as you're practicing on your own – and believe me, I can tell who knows the choreography and who doesn't. Practice sessions will be up on Sohaila's Shining Stars practice calendar on the website at SohailaInternational.com. Most ALL practice sessions are a paid class.
•Investment of Money– Belly dancing is a wonderful combination of dance and exercise. At a minimum, all it takes is yoga-type clothing, a basic hip scarf, and suitable shoes to take classes and practice at home. But performing in public requires a financial investment in costumes, cover-up, shoes, props, and all the things that go along with "putting on a show." Depending on the choreography, I may plan for a matched look, where all dancers wear a specific costume (that may be purchased or rented from me) or I may plan for a mixed look, where dancers can wear a costume they already own (with my prior approval). Same goes for props such as veils, isis wings, canes, etc.
•Courtesy and Etiquette in Performance– Dancing as a group, in a troupe is usually the first step to gaining the experience and confidence of dancing in public. But it's important to remember that a troupe is a diverse set of people, as most teams are, and you need to be able to get along with each other. You also need to be able to follow my direction as your troupe leader—instructor, artistic director, and supervisor all in one—and you may not like everything you're asked to do. If you prefer being your own boss, then you may be better off going solo—a troupe expresses the director's vision, a soloist expresses their own vision. A troupe performance is not just a fun exercise for the dancers—it is entertainment for the audience and it is ultimately a reflection of your instructor. So be sure to be prepared, act professionally from the time you arrive until you leave the event, and do your best! I will determine program order, dancer lineup, choreography, and entrances/exits. While you may be invited to give suggestions and opinions, ultimately the final decisions rest with me. If I have permitted someone to be in the lineup, then it's because I think that they have sufficient ability to be there. Be patient with each other; everyone has different levels of ability, different levels of dance experience, and different ways of learning.  Since you may have  occasion to share a dressing room with dancers you don't know, always be courteous, respect  their space and do not touch their costumes or items. If they need help for any reason such as  with their costume, by all means help them out.
•When dancing at performances in venues, be it inside or outside, there will be no distractions on or around performers or performance area. Please make sure there are no children or pets around or on the stage. We use many different kinds of props, we do not want any accidents. If there are children or animals running around have person in charge of area or dance coordinator to kindly ask parents to have the child sit down until you are finished with your performance.
•Choreography– If you intend to choreograph a routine, you can get inspiration from a number of places such as live shows, Vimeo, Youtube, Internet, etc. Though its fine to get 'ideas' ultimately your choreography has to be your own. If you do intend to use someone else's choreography you must ask for approval from them and give them credit. Plagiarism will not be tolerated and you will face severe consequences.
All choreographies that Sohaila creates either for a group or your private lesson are owned solely by Sohaila. Using any of Sohaila's choreography outside of class or my troupe is strictly prohibited unless you have written permission from Sohaila. By taking my classes and learning my choreographies, either online, live, or in this member hub, you have acknowledged that you understand and have read the class policies.
•Release: you agree to authorize Sohaila, JoEllen Handelsman, Sohaila International, Angel Aguilar and her associates to use photographs, images, and video for use for the purpose for publicity, illustration, commercial art, advertising, publishing, hard copy and online. You waive all rights to review or approve any uses of the images and written copy of finished product. 
By reading and purchasing classes either online, in studio or through the memberhub, you acknowledge the above policies. With that all said and out of the way…Glad to have you in class!!! If you are unclear or have any questions please let me know.
Sohaila